Post by 33grinder on Nov 23, 2009 0:59:03 GMT
Hi all,
33G here. As you know, my fellow Essex Daffers Matt and Dan are unable to post to this forum (although they can sometimes get online to view) and as such, there's much going on with their own Dafs, as there is with mine.
So, with that in mind, we decided that hence forth any of our Daffing activities should be combined into this thread, continuing on from the photos you've seen in North meets South thread and the threads about my white 33, Gavina and Passionwagon the 33 van. We hope you like and approve of this format.

Matt spent much of his life in Cornwall. He has been into Dafs for many years as his father used to run them. Here's a photo of one of Matt's favourite Dafs owned whilst in Cornwall, a 33 which he eventually sold to a friend who restored it and is still using it today.

Matt bought a car from Dan a few years ago and since then they have been in touch.
Today's activities started with Dan visiting Matt in his Volvo 66. I wasn't there to see it and it resided at Matt's whilst the rest of the activities continued.
Volvo 66 (Dan hasn't named it yet) meets Goldie, Matt's recently back on the road 46. Interesting fact about Goldie. She was rescued from the fire brigade for the sum of £50, she was due to be cut up in a practice session using the jaws of life. Happily Matt was in the right place at the right time to save her.
Then Dan helped Matt fix Animal's achilies heel, the distributor. A new one was fitted, but as we know, Dafs are never greatful for the attention they're shown and she thanked Dan by trying to eat him!
;D ;D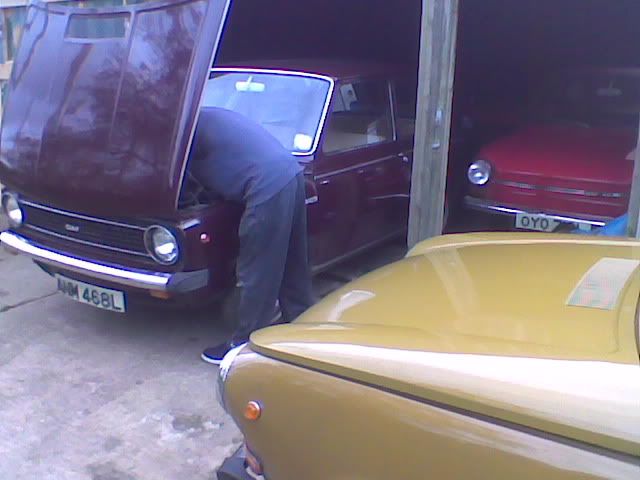 Incidentally, Matt had some bad news last week. Somebody took a swipe at Animal whilst parked outside his house. They didn't leave a note but did leave his bumper barely hanging on. Fortunately Matt had a spare and so Animal is now back in working order.
So, with the dizzy replaced some tinkering on Goldie, Matt's 46 saloon's exhaust was undertaking and then the lads set off to not so sunny Rayleigh.

Gavina was started up and there was much tinkering of the choke and throttle assembly. Finally we got the choke fixed and the idle speed low. We were able to drive her and change gear with the engine running - yay!! ;D
Photos are intentionally blury to give the illusion of speed!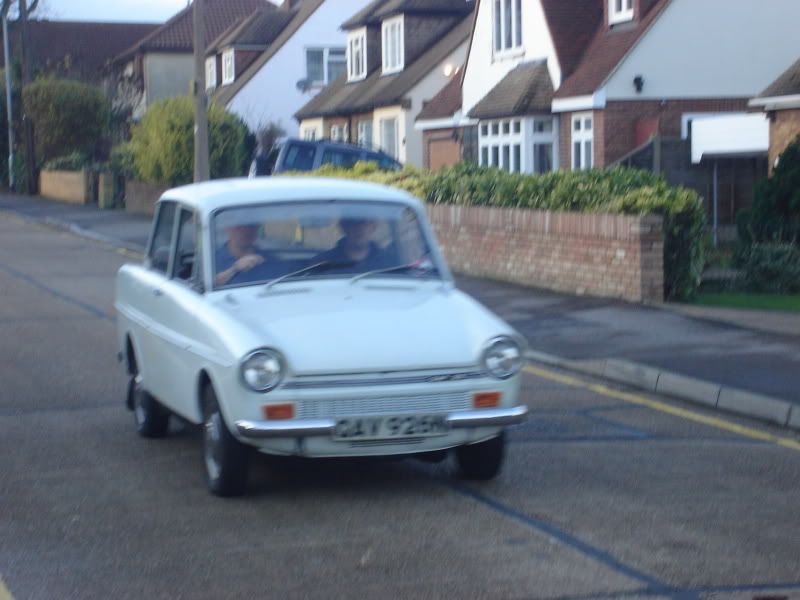 Happyness is a warm Daf.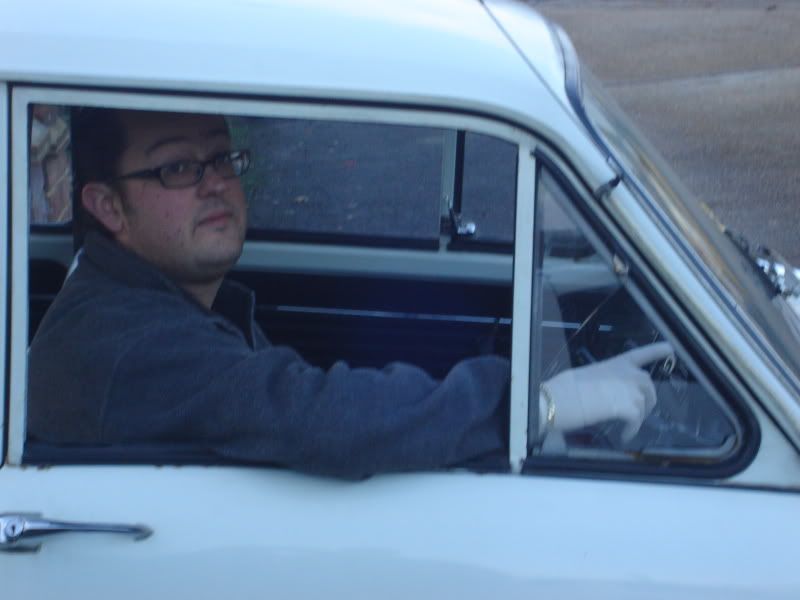 With all that in order, attention was tured to the brakes which could optimistically be called 'spongy' but when she was legally on the road the combination of the original Michelin ZX tyres with those brakes gave me moments when by backside would twitch quicker than a rabbit's nostrils!
;D
So, Matt reversed his mobile toolchest onto the driveway and work started on inspecting the brakes.
Front drums were quite easy to get off, and the cylinders and shoes appeared to be relatively new!
OK, just because I'm taking the photos doesn't mean I don't do anything myself!! Dan kindly took this one. Thanks Dan.
Then attention in the fading light turned to the backs. The drums were born out of wedlock, for want of a better description, and needed quite some persuasion from Matt to come off. Again, they revealed new shoes and cylinders. Also some pipework has been renewed.

Dan doesn't hang around!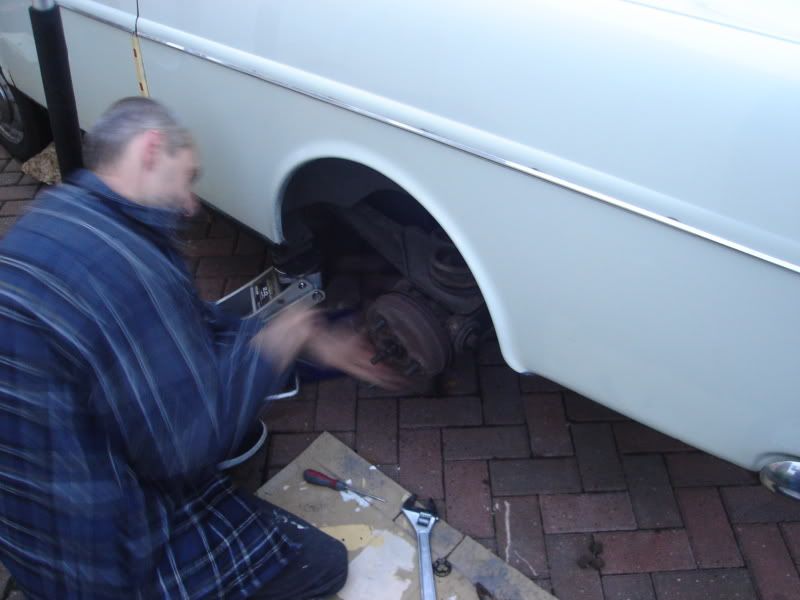 Here's matt giving some gentle persuasion (persuading hammer not shown).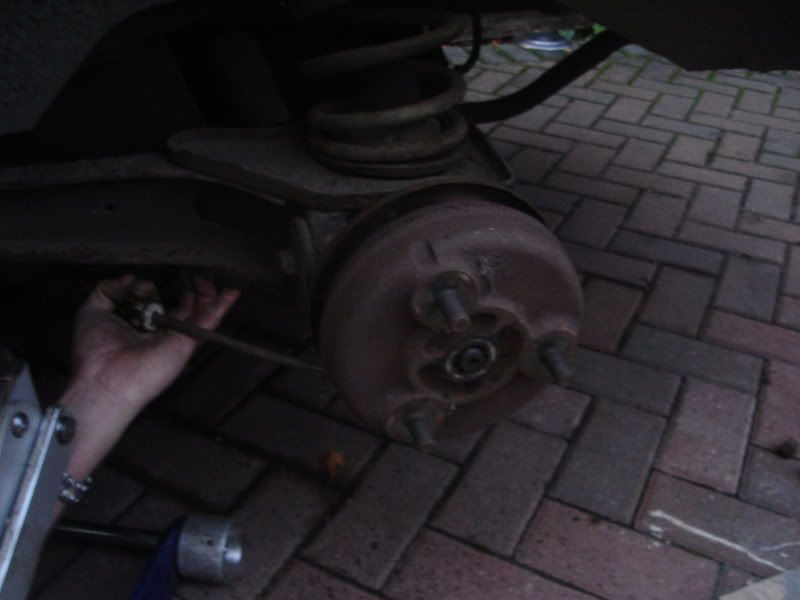 Then something amusing but frustrating happened. I made my fellow Daffers some tea and when I returned with it they were acting rather sheepishly. Someone (didn't find out whom) had dropped the brake fluid resevour cap into the open hole of the heat exchanger (no hoses on mine yet). Much fun and games ensued over getting that out!

It wasn't me, honest, I was making tea!
Then we decided to start her up again and the starter picked that opportunity to give up the ghost. Lots of whirring noises, like it wasn't able to engage/disengage correctly.
So, after a bit of grumbling, the starter was removed, as was the battery and it was tested with some jump leads. The starter spun but the pinion wasn't jumping out. Do they on 33s? Do I have a duff one? We sprayed it copiously with some lubricant and put it back on. To add insult to injury, a nut was lost that connects the batter cable to the starter. We looked absolutely everywhere and can only assume that Gavina had swalled it somewhere. The nut and bolt box was searched but nothing suitable was found. So, with shame she was pushed into the garage.
I took a quiet Dutch moment to seek inner calm and aarrgghh! WHERE'S THAT FECKING NUT GONE TO!!!
We also found that the flexi hoses need replacing, luckily Matt has some new rear hoses.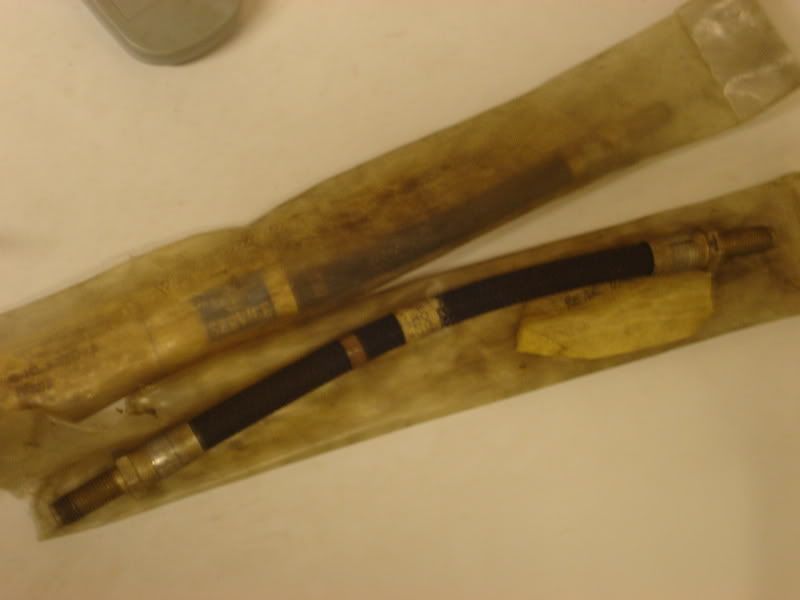 I also found that she has a small fuel leak, on the pipe that runs up and away from the tank (not the initial pipe), we think Matt has a spare.
So, a bit of a mixed bag today. Matt was really disappointed that we couldn't have progressed further and with the set back over the starter. She must have heard the word MOT!
We'll meet up in about 3 weeks time and try to get it finished and MOT ready. I'll get some new front hoses and there's a reconditioned starter motor on e-bay so I'll get that. With the hoses done and a new starter on, hopefully she'll finally be ready.
I'll let you know of future developments with all of our cars.
That's all for now!
Cheese,
33G.